From sports injuries and arthritis of the joints to back pain or scoliosis, McClellan Chiropractic Center is equipped to handle all your chiropractic needs. To help you understand your options, we've included descriptions of some of our leading services on this page.
Massage Therapy
Therapeutic massage involves manipulating the soft tissues of the body to prevent and alleviate pain, discomfort, muscle spasm, and stress. As in many kinds of therapy, therapeutic massage is one part of your overall chiropractic treatment plan. Read More
Deep-Tissue Laser Therapy
We are now using a Lightforce Deep Tissue Laser to treat various musculoskeletal conditions. This is a class IV therapy laser that is FDA cleared and endorsed by many clinical organizations, including the ATPA, WHO, and IASP. This laser is being used by the University of Florida and Florida State University Athletic Departments. It is also being used by USA Basketball, USA Track and Field, and many NFL, MLB, NBA, and NHL teams.
To read more, visit the Lightforce Webpage.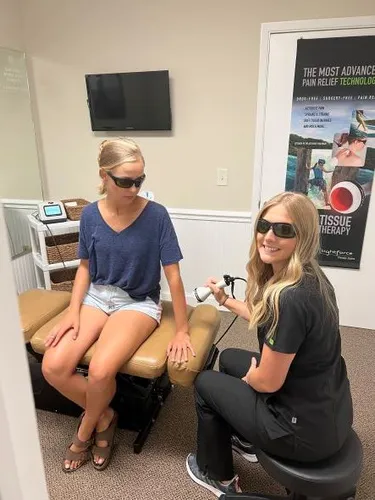 Arthritis
Arthritis affects everyone in different ways. In some, joints in the spine, fingers, wrists, shoulders, knees -- even toes -- lose their normal shape and large amounts of fluid and debris fill the joint space. Read More
Headaches/Migraines
Chronic headaches and migraines afflict many Americans. The severity of pain can go from mild and intermittent to episodes of debilitating throbbing, unrelenting agony, as well as nausea. Read More
Sports Injuries
Though there is no such thing as a "safe" sport, highly competitive sports, such as football, weightlifting, gymnastics, and wrestling, pose particularly higher risks of injuries, especially among children. Read More
Disc Injuries
Many of us are familiar with the terms "slipped disc" and "herniated disc." But few people outside the medical profession truly understand how critical their spinal discs are. Read More
Back Injuries
Back injuries are sustained in a myriad of ways and some people are more likely to develop back pain and injury than others are. Read More
Whiplash
Whiplash is an injury to the cervical spine, or neck, and occurs when the muscles and other soft tissues are hyperextended or hyperflexed. Read More
Acupuncture
While many have heard of it, few know very much about it. Yet acupuncture is one of the oldest healing arts in the world, practiced centuries ago by ancient Chinese as a method of curing a host of ailments. Read More